Since the time Baba Ramdev started teaching yoga in 2002, his rise and popularity is a cause of concern for every Hindu hater. His intentions, his yoga, his Ayurvedic medicines, his treatments and his claims of treating seriously ill patients are all under the scanner. Maybe his adorning saffron does not go down well with some. His most vocal critics are supporters of congress who criticise Swami Ramdev for being a businessman. How a yoga guru went way beyond being a guru and a businessman during the times of Nehru and Indira Gandhi and became the centre of power is astonishing. Let me tell you the story of Dhirendra Brahmachari.
Brahmachari's first and foremost qualification was that he was an extraordinarily good-looking tall man with very fair skin, stunning looks, hypnotic eyes, and washboard abs. Was his physical appearance the main reason for his popularity? Indira Gandhi once wrote to her friend and renowned American photographer, Dorothy Norman, "I get up early these days to do a special set of exercises. It was a system that was taught to us by an excellent, good-looking yogi. In fact it was his looks, especially his magnificent body, which attracted everyone to his system………'. Khushwant Singh, the late author who was close to Nehru-Gandhi family wrote," Dhirendra Brahmachari was a tall, handsome Bihari who had an hour with Indira behind closed doors every morning…………"
Dhirendra Brahmachari was a man of multiple talents. He was a yoga teacher who was politically powerful and influential. He advised cabinet ministers and was considered the most powerful besides the prime minister. In 1969, he was sold a 1.68 acre plot on expensive Ashoka Road in Delhi for a meagre amount of 50,000 Rs where he started his Vishwayatan Yoga Ashram. From politicians to representatives of multinational corporations lined up to meet and seek his favour. He had a palatial bungalow at another expensive Delhi locality, Friends Colony which DDA sold to him in only 99,000 Rs. This 16 room house is said to be extremely luxurious. His yoga centres in Jammu and Mantalai in Udhampur were spread 50 acres of land in the picturesque locales. The ashram was sound-proof, wall to wall carpeted and had the finest of chinaware. It had a helipad and a zoo. Yog Guru certainly had a fine taste.
He had a fleet of his aircraft that included a 4-seater Cessna, a 19-seater Dornier, Pitts S2 and Maule-5. His aircrafts played a very crucial role in the 1977 elections that I will come to later on. He had 3 personal airstrips one in Silokhra near Palam and 3 personal hangers. He had a fleet of the most expensive luxury cars. He had the privilege of getting whatever he wanted as he had direct access to the Prime Minister. He could flounder rules without blinking an eye. Once when he was required to submit an audit report of the grant given to his yoga centre, he refused to do so and Indira Gandhi had to speak to Nehru to tell his minister to stop that. The altercation resulted in the education minister KL Shrimali stepping down. He was so powerful that the portfolio of IK Gujral, minister for housing was changed when he got annoyed as the minister turned down his request to allot additional land for his ashram in Delhi.
Brahmachari's influence increased in Congress party with the rise of Sanjay Gandhi. He became a member of the gang of tough operators around Sanjay which included Yashpal Kapur and RK Dhawan. Sanjay Gandhi and his coterie wielded enormous power for 2 years and Brahmachari was certainly a prominent member of the privileged group. Brahmachari and Sanjay were extremely close. Not only did Brahmachari invest Rupess Three Lakhs in Sanjay's dream project, Maruti Limited but freely lent his Maule-5 aircraft to Sanjay for practice flights. After the Emergency, the Janata Party government appointed the Shah Commission to look into the atrocities and irregularities caused during the Emergency. It found that Maule-5 and its owner played a major role in the election campaign of Indira Gandhi in 1977. According to the aircraft's logbook out of 213 flights logged, 123 were practice flights for Sanjay Gandhi, 60 flights to various parts of India and 18 for Rae Bareli alone. During the emergency Maule-5 was procured illegally from the US. Also, Sanjay Gandhi died flying Brahmachari's plane. But all this for another time.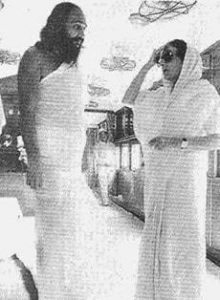 In the 1980s J&K government had filed several cases against the Shiva gun factory that Brahmachari had set up in Jammu. He was accused of illegally importing gun parts from Spain for his factory which had a license to make guns only with local materials. During Indira Gandhi's rule union government went out of its way to allow him to import advanced medico-electronic and biophysical equipment for his research centre. He imported the latest range of scientific tape recorders and some remote monitoring devices. What a Yoga guru did with such equipment, is anybody's guess. His death was as controversial as his life was. He too died in a plane crash.
Just like Brahmachari, Swami Ramdev is also a yoga guru. But he is neither a womanizer nor suave. He sells Ayurvedic medicines, soaps, toothpaste and groceries not guns. He stresses the need for swadeshi while Brahmachari wanted multinationals to do business in India. Swami Ramdev is not a go-getter or a middleman. He is not an insider of the PM's household either. Bureaucrats, cabinet ministers, politicians and businessmen are not queueing up outside his door. No wonder a desi, rustic and saffron-clad Swami Ramdev is attacked and mocked every now and then. The problem is not Swami Ramdev. The problem is Bharat, he is just in the way.