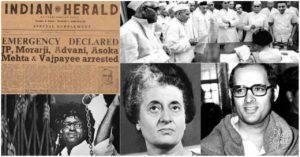 I am lucky to be born in a post-independence era and perhaps like all other people born after independence would have never valued the price of it. But two years during my childhood taught me the real value of the freedom that democracy imparts but we take it for granted. Today even a small and genuine sanction or raid is very easily compared to the Emergency, but the people who have seen it only know the magnitude of the political selfishness of a leader. No one even in the worst of his/her dreams would have ever imagined that an Independent India would see a day when all fundamental rights would be suspended, politicians would be arrested and heavy censorship would be imposed on media. Personally, for me, those two years were a life changer.
The Emergency was announced on 25th June 1975, after the historical judgment of Allahabad High Court, on the Election petition filed against Indira Gandhi's election to the Lok Sabha. The election was set aside. All non-Congress and non-leftist parties demanded Indira Gandhi's resignation. Indira Gandhi, instead of listening to the reason and resigning from the office insulted the High Court verdict by resorting to draconian methods. The external emergency was already imposed because of 1971 war and instead of withdrawing it, the internal emergency was also imposed. The first act of the Government under Emergency was to arrest of all prominent opposition leaders. According to an estimate, 1 lakh to 2 lakh persons were detained. One of them was my father.
It was on 25th of June that a news about my father appeared in The Tribune:
From our Staff Correspondent:

ROHTAK, June 24:- Mr Teja Singh, a senior leader of the Haryana Private College Teachers' Union, yesterday welcomed the Punjab Government's decision to implement UGC pay-scales but regretted that it was not done with retrospective effect from 1973.

In a statement here Mr Teja Singh urged the Haryana Government to take immediate steps to implement the decision it took in principle a few months ago. He wanted the Government to give UGC pay-scales to all categories of college teachers including liberarians and DPEs.
Unfortunately, the same day, Emergency was declared and the very next day, my father was arrested. He had been to jail many times before too during his struggle for the rights of teachers in private colleges. But it was never for more than a few weeks. As the policemen in civil clothes appeared at our doorstep, he very casually asked my mother to pack a few clothes and accompanied the policemen. No one imagined that he was going away for 19 months.
Haryana and its government headed by Bansi Lal played an extremely important role in Emergency. Even before the Emergency was imposed, in the first six and a half years of Bansi Lal rule, the state police had taken more than 1,43,000 people into custody. Farmers, non-government affiliated college lecturers, Haryana state electricity workers, no one was spared. The Emergency further strengthened the hands of Bansi Lal. In fact, he had told Indira Gandhi that in Haryana he had built many new jails and if opposition leaders are sent to Haryana, he would set them right. He kept his promise. Most political detainees were physically tortured in Haryana jails.
Many national leaders like Biju Patnaik, Piloo Modi, Sikandar Bakht, Chander Shekhar etc were housed in Rohtak jail. My father stayed there for a few days but was soon shifted to Mohendergarh Jail. This was a sub-jail and was known as Kalapani of the state. The night he was being shifted to Mohindergarh jail, a theft took place at our residence.
Not only the valuables, everything was stolen. We had no clothes to change next day. We kept making rounds of jail and Deputy Commissioner's office to get permission to meet him. I recall how helpless bureaucrats and government officials were! They wanted to help but were scared of the strict government action. They had no permission to even tell us that my father had been sent away to Mohindergarh. For more than one month, we were not aware of his whereabouts.
Running a house, feeding and educating three kids, fighting lawsuits against the college management for unlawful dismissal of my father,  making rounds to Monindergarh, and no money, my mother was struggling outside. Sometimes we had the permission to meet my father but couldn't go as had no money to spend on bus fare. While the belief in the political system was badly shaken, trust in humanity got strengthened. Help started pouring in as the teachers came to know of our financial difficulties. A big businessman arrested for his political affiliations overheard my father's conversation when we informed him that winters were approaching and we had no woolens. Received a cheque within next few days. There were no words to thank all these strangers. My family will always remain indebted to them.
The phrase 'Undeclared Emergency'  and 'Fascist government' are dropped easily today without knowing the meaning of it. After 8 o'clock the roads were deserted as anyone roaming around was arrested. Boys having long hair (long hair were in fashion that time) were straight away taken to the barber shop for shaving their heads. Between June 25, 1975, and March 1977, an estimated 11 million men and women were sterilized using force. The sterilizations were performed in assembly-like fashion, in great haste, and in unhygienic conditions. Many men and women died from subsequent infections.
In a Muslim village in Haryana, all men above 15 years of age were rounded up by police for sterilization. According to a report in The Indian Express:
The villagers of Uttawar were shaken from their sleep by loudspeakers ordering the menfolk—all above 15—to assemble at the bus-stop on the main Nuh-Hodol road. When they emerged, the found the whole village surrounded by the police. With the menfolk on the road, the police went into the village to see if anyone was hiding…as the villagers tell it, the men on the road were sorted into eligible cases. . . and they were taken from there to clinics to be sterilized.
Many times during my father's jail term, he faced mock release. Packed everything, got ready to come out but was detained again at the last moment. The physical and mental torture, vendetta, humiliation, suffering, and insult faced by political and common people is beyond imagination. When anyone says that today India is facing 'Undeclared Emergency', I remember these two years of dictatorship. 42 years is a long time but history cannot be wiped clean of the sins of a leader. The fact is that Indira Gandhi was the first and the last dictator of India. The 'Declared Emergency' destroyed the life of many.